For Immediate Release
Mill Spring, NC – June 1, 2021 – In celebration of the 93rd Tryon Spring 6/Tryon Riding & Hunt Club Charity Horse Show – the nation's third oldest horse show – Tryon International Equestrian Center (TIEC) is presenting a $500 "Trip of the Day" prize to the highest-scoring Hunter rider each day of the competition. In addition to the prize money, the daily top-scoring rider will also receive a special commemorative ribbon.
TIEC introduced the "Trip of the Day" prizes to the competition week in 2019 when Tryon Riding & Hunt Club's historic horse show was officially named a "U.S. Equestrian Federation Heritage Show" – one of only 27 shows in the nation to earn such a designation.
This celebratory horse show week is distinguished by the use of traditional, old-style courses with natural style fences woven throughout. The featured class of the week is the $50,000 USHJA International Derby on Friday, June 11, and concludes on Sunday where division winners will be presented with TR&HC historic trophies like the Harry Brown trophy, on which their names will be engraved, plus a keepsake silver bowl to take home.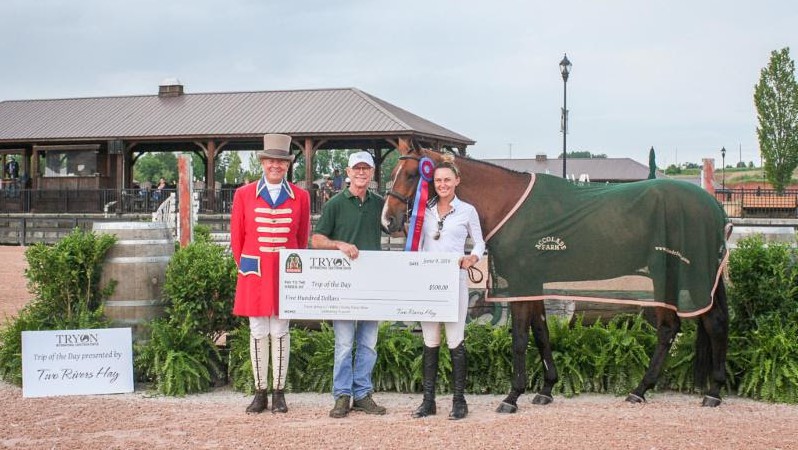 Erin Floyd and Jerez Mail alongside Tryon Equestrian Partner Roger Smith of Two Rivers Hay and Ringmaster Steve Rector in 2019.
©TIEC
The Trip of the Day awards are presented by the generosity of several TIEC sponsors including:
Two Rivers Hay
Roger & Jennifer Smith
Kelly & Randi Goulding
Farm House Tack
Whiterun Farm
Previous recipients of the "Trip of the Day" awards include Erin Floyd and Jerez Mail, Kristi Watson and Wilson, Sandra Savage and All 4 Play, Bergen Sanderford in a tie on both Confidential and Happenstance, and Holly Shepherd and As You Wish. The program was not hosted in 2020 due restrictions related to the global pandemic.
For competition information about the Tryon Spring 6/Tryon Riding & Hunt Club Charity Horse Show, visit
Tryon.com/Compete
.